---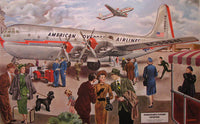 1948 American Airlines Pan Am Vintage Travel Poster
This is a great and graphic piece! It depicts a wonderful airplane scene of travelers scurrying to get on their American Airline flight. It has a text box which reads "Transatlantic Flagship Departure, MCMXLIII, Jaymar Specialty Co., 200 Fifth Ave. New York." It has an artist signature of E. Barron printed in lower right, an American graphic designer, poster artist, illustrator

American Overseas Airlines (AOA) was an airline that flew between the USA and Europe between 1945 and 1950. AOA was acquired by Pan Am in 1950. The poster depicts a plane clearly marked the Flagship America, which was a Lockheed L-049 Constellation, also named Philadelphia and Copenhagen.

This is a wonderful A condition, linen mounted aviation travel poster. It depicts stylish people dressed in the current fashion scurrying to get on a plane, a woman with a fashionable black poodle dog and child and plane taking off behind. The poster is archivally linen backed and ready for framing. This came from a series of posters we acquired from a printing house in the early 1990's, hit this link to see the rest, rare and never seen before in our poster travels.
OUT OF STOCK: more on the way, are at the linen backers.

Size: 22 x 14 inches

    You'll deal directly with gallery owner Debra in your purchase: USPS Priority Shipping is FREE in US, Reduced rate for International USPS Priority shipping. We have a 100% approval policy. We want you to be happy with your poster purchase. A signed COA (Certificate of Authenticity) is included with each poster purchase. Debra has been selling original vintage antique posters on the web since 1995. We do not sell reproductions, only authentic antique posters.