---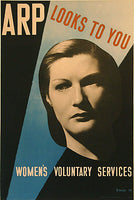 1938 WWII British ARP Womens Vintage Poster by Davies
PRINTED BY: Printed for HM Stationary Office by Fosh & Cross Ltd London, United Kingdom UK
AGE: 1938, lithograph.
ARTIST: Davies, British graphic designer, poster artist, illustrator
CONDITION: A, Linen Mounted
This pre WW2 era military related poster encourages women to enroll in the Air Raid Precautions. It has a modernist style promoting women's voluntary services. Entitled "Arp Looks to You", this women's history poster demonstrated strong graphic design elements. Today the WRVS (formerly the Women's Royal Voluntary Service, known until 1956 as the Women's Voluntary Service) is a voluntary organization concerned with helping people in need throughout England, Scotland and Wales. It was initially founded as the WVS in 1938 by Stella Isaacs, Marchioness of Reading as a British women's organization to aid civilians.

This poster has strong photomontage modern or moderne and machine age graphics, a wonderful and rare English, Great Britain, UK, British art deco piece by poster illustrator graphic artist Davies. Beautiful and ready for framing! We only have this one.
Size: 29.5 × 19.5 inches

    You'll deal directly with gallery owner Debra in your purchase: USPS Priority Shipping is FREE in US, Reduced rate for International USPS Priority shipping. We have a 100% approval policy. We want you to be happy with your poster purchase. A signed COA (Certificate of Authenticity) is included with each poster purchase. Debra has been selling original vintage antique posters on the web since 1995. We do not sell reproductions, only authentic antique posters.