---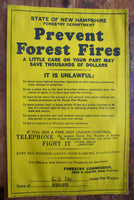 1930's WPA era Antique Advertising Forestry Conservation Ecology Poster
Town of Hinsdale, NH

Age: 1930's WPA era
Condition: See photos, an original early heavy stock forest fire poster, we have 4, all have some paper discoloration as seen.
Printed by: National Ptg. & Eng. Co. Chicago, New York, St. Louis (The National Printing & Engraving Company)
Hinsdale is in Cheshire County, New Hampshire, near Brattleboro, Vermont VT. It is home to parts of Pisgah State Park, and the Wantastiquet Mountain State Forest. This is a great old original heavy yellow stock Fire safety Poster from the thirties, produced by the State of Hew Hampshire Forestry Department with John H. Foster as State Forester. It has a stamped area at bottom of the Hinsdale Forest Fire Warden, named C.D. Fay. We found Clarence D. Fay in the 1920 census, born 1879. His wife's name was Eva Fay, and he had two daughters, Marjorie Fay and Priscilla Fay. He was also chief of the Fire Department in Brattleboro, Vermont in 1935.
The poster has the text "A Little Care On Your Part Can Save Thousands of Dollars." It has basic fire rules of camping, cigarettes, burning lumber, portable saw mills and asks that if you see a fire not under control, telephone the nearest fire warden,  as "the telephone operator can locate him." The reverse, see photos, has instructions for tacking. We have 3 of these great old signs left, all found together, when gone, we will never have again. Heavy paper, will come rolled in a shipping tube. Lay flat on a table to flatten. They are a thick yellow paper made for posting outdoors, and somewhat "wavy", just as they were made.

Size: 17 x 11 inches

    You'll deal directly with gallery owner Debra in your purchase: USPS Priority Shipping is FREE in US, Reduced rate for International USPS Priority shipping. We have a 100% approval policy. We want you to be happy with your poster purchase. A signed COA (Certificate of Authenticity) is included with each poster purchase. Debra has been selling original vintage antique posters on the web since 1995. We do not sell reproductions, only authentic antique posters.