---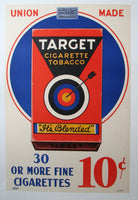 1940's Target Brand Cigarette Tobacco Vintage Poster
PRINTED BY: Allied Printing New York City, has printer's Union logo.
AGE: c. 1940's
CONDITION: A, Linen Mounted
This early art deco cig posters depicts a target with an arrow piercing it. Red, White, and Blue advertising, and at 10 cents a pack! A beautiful deco American graphic, very simple and direct with a Union Label, printed by Allied Printing in New York City. The poster is archivally linen backed and ready for framing. We have 9 of these total, found in an early printing house…A great old original piece. Also see a blue version on our site from same source.
Size: 12 × 17.5 inches

    You'll deal directly with gallery owner Debra in your purchase: USPS Priority Shipping is FREE in US, Reduced rate for International USPS Priority shipping. We have a 100% approval policy. We want you to be happy with your poster purchase. A signed COA (Certificate of Authenticity) is included with each poster purchase. Debra has been selling original vintage antique posters on the web since 1995. We do not sell reproductions, only authentic antique posters.