---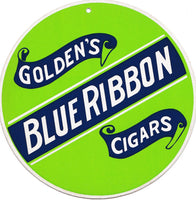 1950's Original Antique Advertising Sign "Fan Hanger"
for Blue Ribbon Cigars

Age: 1950's
Condition: round advertising disc with 2 identical sides, printed on white cardstock, with great old typography. Has a single hole for hanging, see close up scan. 
This is a small 2 sided cardboard fan hanger sign, 6.5 inches round.  "Fan hanger's" were tied to the pull string of the old antique store ceiling fans and slowly turned from the breeze of the fan, always advertising the logo on both sides.
The A.J. Golden company was located at 56 W. Market Street, York, PA, Pennsylvania. The Gettysburg Times from May 2, 1981 states that: "Francis X. Smith, who with his brother, began making cigars in his father's Irishtown general store. In 1877. Smith moved the growing operation to McSherrystown. where he also ran a general store similar to his father's enterprise. Five years later. Smith quit the store to devote all of his time to the tobacco business. What began as a backshop business employing five workers, had blossomed into a full-scale enterprise by 1882. and Smith's manufacturing plant was producing some six million cigars annually and handling four to five million others for processing and packaging. After the senior Smith's death in 1901, two of his five sons. Paul and Peter, ran the business together until 1922 when Paul became the sole owner. Another Smith was on the way. however, and in 1937. Paul's son. Joseph, was admitted as a partner in what had by then become a third generation family business. During the years of the 1920s and 1930s. Phil said, the company produced cigars for the A.J. Golden Company, which marketed the "Blue Ribbon" brand. These cigars, which were of the legendary five-cent variety, were for a time the third best-selling cigar in the country. . The "Blue Ribbons". Phil said, were made by hand, and for a time before the industrial revolution caught up with the cigar industry, the McSherrystown plant employed about 400 workers."
This is a wonderful small advertising "fan hanger"meant to hung in a tobacco or general store announcing Golden's Blue Ribbon Cigars. A great old piece...we only have this one. 
Size: 6.5 inches round disc, see photos.
  
   You'll deal directly with gallery owner Debra in your purchase: USPS Priority Shipping is FREE in US, Reduced rate for International USPS Priority shipping. We have a 100% approval policy. We want you to be happy with your poster purchase. A signed COA (Certificate of Authenticity) is included with each poster purchase. Debra has been selling original vintage antique posters on the web since 1995. We do not sell reproductions, only authentic antique posters.