---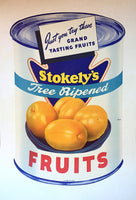 1940's Stokely's Grocery Store Whole Canned
Peaches American Advertising Poster
AGE: c. 1940-1950's
CONDITION: A, Linen Mounted
Signed: Litho in U.S.A., W-18

This old, original antique 20th c canned fruit poster was most likely used in a forties American grocery store to sell peaches. It has a very modern look and resembles the artist Andy Warhol's series of Campbell soup can paintings, but NOT! It would look great in a kitchen or restaurant. The poster is cut around edges to the can, as in a figural can, die cut, and linen mounted, stunning A condition, ready for framing.
History: In 1861 Gilbert Van Camp and his business partners Calvin Fletcher and Martin Williams started an Indianapolis canning business during the American Civil War. Van Camp beans became one of the most popular brands in America. In 1898, Van Camp Packing Company distributed six million cans of food. In 1933 the business was bought by James & John Stokely of Newport, Cocke County, Tennessee eventually forming Stokely-Van Camp. They canned millions of  vegetables they grew in the French Broad Valley. Headquarters were in Indianapolis, and eventually they branched out to Bellingham, Washington. A famous canning business here!

The graphics are great: bright, vibrant, bold, modern or moderne and dynamic. It is in wonderful condition and ready for framing, a great kitchen piece. The poster is archivally linen backed and we only have 2 and then no more. We have another similar Stokely poster that would look great with this for sliced or cut peaches, see it on our site here.

Size: 19.5 x 12.75 inches wide

   You'll deal directly with gallery owner Debra in your purchase: USPS Priority Shipping is FREE in US, Reduced rate for International USPS Priority shipping. We have a 100% approval policy. We want you to be happy with your poster purchase. A signed COA (Certificate of Authenticity) is included with each poster purchase. Debra has been selling original vintage antique posters on the web since 1995. We do not sell reproductions, only authentic antique posters.