---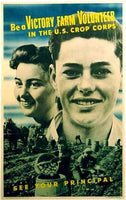 1943 Victory Garden US Crop Corps WWII Military Poster
PRINTED BY: US Government Printing Office
AGE: dated 1943, WWII era
CONDITION: B+, Linen Mounted. Machine folded as war posters were, to send out in envelopes. The folds are unobtrusive unless scrutinized closely. beautiful!
This poster is a call for children to help out during the war effort and go to work in the summer working for the United States Crop Corps, part of the government's work plan. It has the text "See Your Principal" at the bottom, as it was made to display in the schools. It depicts youngsters harvesting food, vegetables and crops.
Victory Gardens were popular during WW1 and WW2. They were gardens planted at private residences in the United States, Canada, and United Kingdom during WW1, World War I and World War II to reduce the pressure on the public food supply. These gardens were also considered a "morale booster". Making victory gardens became a part of daily life on the home front.

This poster is done has modern art deco and photomontage elements. It was considered very Modern Graphic design for its time. We have 2 of these posters, found together and ready for framing.
Size: 14 × 22 inches

   You'll deal directly with gallery owner Debra in your purchase: USPS Priority Shipping is FREE in US, Reduced rate for International USPS Priority shipping. We have a 100% approval policy. We want you to be happy with your poster purchase. A signed COA (Certificate of Authenticity) is included with each poster purchase. Debra has been selling original vintage antique posters on the web since 1995. We do not sell reproductions, only authentic antique posters.