---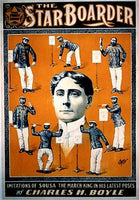 1890-1900 John Philips Sousa Music Band Conductor Poster 
Charles Boyle Vintage American Advertising
PRINTED BY: The Enquirer Job Printing Co, Cincinnati, Ohio
AGE: Circa 1890-1900 stone lithograph
CONDITION: A, Linen mounted, original
This is a circa 1890's to 1900 American advertising Victorian entertainment performer music conducting poster called "The Star Boarder" for a show with a famous music performer known as Charles H. Boyle, an early imitator of John Philips Sousa. He produced an American traveling vaudeville show called "The Star Boarder, That Funny Show". He is shown in his poses as a conductor, conducting the marching band.

The poster is a stone lithograph in excellent, A condition. A rare and wonderful American piece, humorous, with beautiful early graphic typography and text. Do you know Charles H. Doyle genealogy wise? He must have put on an amazing show to have such a wonderful large and vibrant poster printed in his honor. We have five of these found together years ago, when gone, we will have no more.
The Library of Congress holds this poster in their collection, and historical info on it can be found here. Stunning condition.
Size: 28 × 41 inches

    You'll deal directly with gallery owner Debra in your purchase: USPS Priority Shipping is FREE in US, Reduced rate for International USPS Priority shipping. We have a 100% approval policy. We want you to be happy with your poster purchase. A signed COA (Certificate of Authenticity) is included with each poster purchase. Debra has been selling original vintage antique posters on the web since 1995. We do not sell reproductions, only authentic antique posters.