---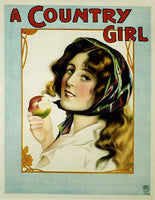 1900 A Country Girl British Theatre Original Antique Poster
PRINTED BY: Stafford & Co. Ltd Netherfeild near Nottingham, England.
AGE: c. 1900, stone lithograph
CONDITION: A, Linen Mounted, BEAUTIFUL!

This is an early traveling play or theatre poster from the early 1900`s. It is printed with a fine lithographic technique and advertises a play called "A Country Girl," also known as "Town and Country". 
Wiki states that "It was a musical play in two acts by James T. Tanner, with lyrics by Adrian Ross, additional lyrics by Percy Greenbank, music by Lionel Monckton and additional songs by Paul Rubens. It opened at Daly's Theatre in London, managed by George Edwardes, on 18 January 1902 and ran for 729 performances, which was the fourth longest run for any piece of musical theatre up to that time. It starred Hayden Coffin, Bertram Wallis, Evie Greene, Huntley Wright, Lilian Eldeé, Topsy Sinden, Ethyl Irving and Rutland Barrington. Gertie Millar and Isabel Jay joined the cast later. The show also enjoyed a Broadway run, starring Melville Stewart, and later tours. This was Lionel Monckton`s first score as principal composer, and his songs included "Molly the Marchioness", "Try Again, Johnny", and "Under the Deodar"."
This is a rare and wonderful English poster with a scene of a Victorian era girl with a shiny red apple in her hand, great for a food theme in a kitchen and in great condition. The poster is archivally linen backed and ready for framing. We only have this one, and have never seen another.

Size: 19.5 x 24.5 inches

    You'll deal directly with gallery owner Debra in your purchase: USPS Priority Shipping is FREE in US, Reduced rate for International USPS Priority shipping. We have a 100% approval policy. We want you to be happy with your poster purchase. A signed COA (Certificate of Authenticity) is included with each poster purchase. Debra has been selling original vintage antique posters on the web since 1995. We do not sell reproductions, only authentic antique posters.