---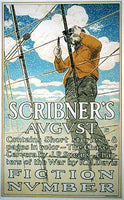 1890's Scribners Antique Sailboat Sailing Vintage Literary Poster
PRINTED BY: J. Ottman Litho Co. Puck Building NY
AGE: c. 1890's, lithograph.
ARTIST: signed H.M.; believed to be Henry Bainbridge McCarter 1886-1942 artist, illustrator, graphic designer
CONDITION: A- Linen Mounted, some very minor edge creasing, would framed beautifully, unobtrusive unless scrutinized very closely, displays beautifully!
NOTE: A wonderful and graphic Victorian era sailing or nautical poster in the age of large antique wooden boats. Text "Contains short stories 8 pages in color-The Chase of Cervera by J.R. Spears-Chapters of the War by R.H. Davis" Fiction Number. 
Scribner's Magazine was an American periodical published by Charles Scribner's Sons from 1887 to 1939. This poster depicts a sailor working on rigging the sails on a sailboat. It is a stunning example of early turn of the 19th century American Victorian era graphic design in great condition. We only have this one. Beautiful and ready for framing!
Size: 14 × 23 inches

    You'll deal directly with gallery owner Debra in your purchase: USPS Priority Shipping is FREE in US, Reduced rate for International USPS Priority shipping. We have a 100% approval policy. We want you to be happy with your poster purchase. A signed COA (Certificate of Authenticity) is included with each poster purchase. Debra has been selling original vintage antique posters on the web since 1995. We do not sell reproductions, only authentic antique posters.