---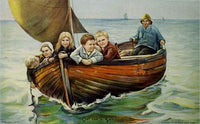 1907 Edwardian era Wooden Sailboat "Out for a Sail" Vintage Poster
PRINTED BY: Copyright 1907 by J.V. Sloan & Co. One Madison Ave. Supplement to the Boston Sunday Globe, USA.
AGE: 1907
CONDITION: A, Linen mounted
This smaller sized American poster or print is a wonderful example of American fine graphic arts litho printing. The image is well rendered by a skilled artist. It was published by the Boston Globe as a supplement to the Sunday Paper, and is considered a parlor print, with no text. This was a way to advertise the newspaper and get more subscribers. It is a wonderful image of children enjoying their ride on a small wooden sail boat with father. The title is printed at the bottom. "Out for a Sail". We only have this one, beautiful.
Size: 10.5 × 17 inches

  You'll deal directly with gallery owner Debra in your purchase: USPS Priority Shipping is FREE in US, Reduced rate for International USPS Priority shipping. We have a 100% approval policy. We want you to be happy with your poster purchase. A signed COA (Certificate of Authenticity) is included with each poster purchase. Debra has been selling original vintage antique posters on the web since 1995. We do not sell reproductions, only authentic antique posters.