---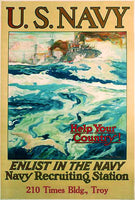 1917 WWI US Navy Reuterdahl Original Military Advertising Poster
PRINTED BY: Latham Litho & Printing Co. of Brooklyn NY
AGE: c. 1917 World War WWI One era lithograph.
ARTIST: H. Reuterdahl, graphic designer, artist, illustrator
CONDITION: B+, Linen Mounted, left top corner restored tear, minor wrinkles, although we list this as B condition it has been professionally restored and displays wonderfully. bright, clean and an early original lithograph. Ready for framing.
This antique Navy shipping poster states "Help Your Country" It was published with courtesy by RJ Collier Esq. The poster is asking young recruits to report to the 210 Times Building in Troy New York NY to enlist in the Navy.
The American illustrator or artist Henry Reuterdahl was born in 1871 and died in 1925. He was a fine painter who worked in the early 1900s. He also did many illustrations. Here we see his graphic design for the United States Navy's Recruiting Agency.
A great poster for any historical collector or military buff. It depicts the rolling blue sea, a sea gull, US Navy ship nautical boating or boat in the rear all in stunning early lithography. The poster is archivally linen backed and ready for framing. We only have this one.
Size: 27 × 41 inches

    You'll deal directly with gallery owner Debra in your purchase: USPS Priority Shipping is FREE in US, Reduced rate for International USPS Priority shipping. We have a 100% approval policy. We want you to be happy with your poster purchase. A signed COA (Certificate of Authenticity) is included with each poster purchase. Debra has been selling original vintage antique posters on the web since 1995. We do not sell reproductions, only authentic antique posters.