---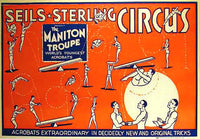 1930 Seils & Sterling Circus Maniton Family Troop or Troupe Gymnastics Circus Performers Vintage Poster

PRINTED BY: Central Show Printing Co. of Mason City, Cerro Gordo County, Iowa
AGE: c. 1930's
CONDITION: A, Linen Mounted, stunning condition!
This beautiful old original horizontal pre WWII acrobatics sports related circus poster advertises the world`s youngest acrobats in new and original tricks. The Lindemann Brothers (later known as Seils & Sterling) Circus gave its first performance in 1918. By 1925 the circus was well under way, the Lindemann adopted the name Seils-Sterling, they became one of the country`s greatest motorized shows. In 1937 they worked in 10 states, but the depression of the 1930s led to the end of Seils-Sterling's travels. By 1938, sadly the circus had closed. 
This is a wonderful children's or kid's room poster or circus collector poster we have not had nor seen before. Have a gymnast in the family? Know this Maniton family genealogy wise? The poster is archivally linen backed and ready for framing. We only have this one and will never have again.
Size: 27.5 x 40 inches

     You'll deal directly with gallery owner Debra in your purchase: USPS Priority Shipping is FREE in US, Reduced rate for International USPS Priority shipping. We have a 100% approval policy. We want you to be happy with your poster purchase. A signed COA (Certificate of Authenticity) is included with each poster purchase. Debra has been selling original vintage antique posters on the web since 1995. We do not sell reproductions, only authentic antique posters.