---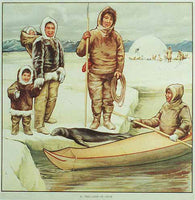 1930 Inuit Eskimo Spear Fishing English Alaska Poster
AGE: c. 1930's, lithograph.
CONDITION: A, Linen Mounted
At the bottom is printed 32 "The Land of Snow". These posters were printed in England for children`s educational and story telling tools for classroom children. There were over 75 posters in the series all with different themes or places.

This one with the theme of spear fishing seals and an Eskimo family with kayak or skin boat, Umiak, their igloo and dog sleds in background, a seal at their feet. This is an early litho pre WW2 or WWII design, and in top condition. The poster is archivally linen backed and ready for framing. We only have this one.
Size: 13 × 13 1/2 inches

    You'll deal directly with gallery owner Debra in your purchase: USPS Priority Shipping is FREE in US, Reduced rate for International USPS Priority shipping. We have a 100% approval policy. We want you to be happy with your poster purchase. A signed COA (Certificate of Authenticity) is included with each poster purchase. Debra has been selling original vintage antique posters on the web since 1995. We do not sell reproductions, only authentic antique posters.