---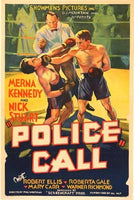 1930 Merna Kennedy & Nick Stuart Boxer Film Poster
PRINTED BY: City Lithograph Corps. Litho in USA
AGE: c 1930`s, lithograph
CONDITION: B+, Linen Mounted, Machine folded for distribution.

Actors include Merna Kennedy, Nick Stuart, Robert Ellis, Roberta Gale, Mary Carr, Warner Richman, produced by Screencraft Productions supervised by Al Alt. Directed by Phil Whitman. Showmans Pictures Inc. DJ Mountan Press presents Police Call.

Merna Kennedy (born Maude Kahler) is best known for her role opposite Charlie Chaplin in the silent film "The Circus (1928)". Kennedy was introduced to Chaplin by Lita Grey, who became Chaplin's second wife in 1924. As a dancer, she had very muscular legs, which gave her the role of the circus bareback rider. Nick Stuart was born in Abrud, Romania, and was raised in Dayton, OH, a handsome, athletic leading man in many Hollywood movies and films of the late 1920`s and early 1930s.

This is a a wonderful sports, boxer, boxing themed antique vintage poster. The poster is archivally linen backed and ready for framing. We only have this one.
Size: 27 x 40 inches

    You'll deal directly with gallery owner Debra in your purchase: USPS Priority Shipping is FREE in US, Reduced rate for International USPS Priority shipping. We have a 100% approval policy. We want you to be happy with your poster purchase. A signed COA (Certificate of Authenticity) is included with each poster purchase. Debra has been selling original vintage antique posters on the web since 1995. We do not sell reproductions, only authentic antique posters.