---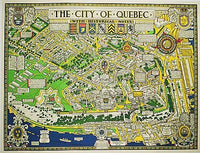 1932 Quebec Canadian Antique Map Vintage Poster
PRINTED BY: Alexander & Cable Litho. Co. Ltd. Toronto, Canada
AGE: 1932. lithograph
ARTIST: Artist signed in the plate, S.H. Shaw 1932.
CONDITION: A, Linen Mounted, absolutely stunning poster.
This horizontal pictorial map is full of wonderful illustrations. There are crests, shields, buildings, ships, stations, historical notes gardens and much more. The shields include Laval, Ste. Vallier, Talon, Dorchester, Levis, Murray, Brebeuf, Champlain, Cartier, Frontenac, & Wolfe. The Hotel Chateau de Frontenac is illustrated. Included are many historical notes such as "Canada defeating Montgomery at the Pres. Deville Barricade on the lst day of 1775, Carlton commanding at Quebec". The Citidel building is illustrated. The St. Lawence river has a note near it addressing the fist steamship to cross the Atlantic which was lauched in Quebec in 1833.

This poster would be a great gift for any history buff or for all those who love antique maps. It is in excellent, A condition. The poster is archivally linen backed and ready for framing. We have two found together.
Size: 26 × 34 inches

    You'll deal directly with gallery owner Debra in your purchase: USPS Priority Shipping is FREE in US, Reduced rate for International USPS Priority shipping. We have a 100% approval policy. We want you to be happy with your poster purchase. A signed COA (Certificate of Authenticity) is included with each poster purchase. Debra has been selling original vintage antique posters on the web since 1995. We do not sell reproductions, only authentic antique posters.