---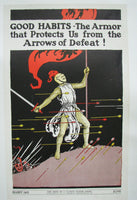 Authentic original 1937 Hope of a Nation
English Medieval Knight in Armor WPA era Antique Poster
PRINTED BY: C.R. Jackson Co. Distributors K.C. Mo., Kansas City Missouri
AGE: copyright 1929 & 1937
CONDITION: B+, Linen Mounted, minor black color tough up, must be scrutinized closely to see. Ready for framing.
This children's poster series was first distributed during the WPA depression years era in American history, to further the incentive and well being of children. It was published in 1929 during the fall of wall street, and then again in 1937, as a learning tool for children.

Poster Text reads: "Good Habits-the Armor that Protects Us from the Arrows of Defeat! The Hope of a Nation Poster Series, Habit (4), June." The poster depicts a wonderful image of a knight in battle with arrows missing him all around, sword in hand. A wonderful piece distributed during the FDR Franklin Roosevelt Works Progress Administration era. We only have this one.
Size: 10.25 × 16.75 inches

   You'll deal directly with gallery owner Debra in your purchase: USPS Priority Shipping is FREE in US, Reduced rate for International USPS Priority shipping. We have a 100% approval policy. We want you to be happy with your poster purchase. A signed COA (Certificate of Authenticity) is included with each poster purchase. Debra has been selling original vintage antique posters on the web since 1995. We do not sell reproductions, only authentic antique posters.