---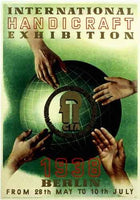 1938 International Craft Expo in Germany Vintage Poster
PRINTED BY: Printed in Germany, Offset Druck August Scherl Nachf Berlin
AGE: dated 1938, pre WW2, lithograph
ARTIST: Signed ENG in lower right, assumed to be the graphic designer, poster artist, or illustrator
CONDITION: A, Linen mounted
NOTE: This is a great modern art deco industrial pre WWII modern design German photomontage poster showing a map of the world globe with hands reaching out, for an artist's handicraft exhibition in Berlin. The modern nature of the piece is very progressive for 1938. We have never seen this poster before in our travels and only have this one. Beautiful lithography, and ready for framing!
Size: 16.5 × 23.75 inches

    You'll deal directly with gallery owner Debra in your purchase: USPS Priority Shipping is FREE in US, Reduced rate for International USPS Priority shipping. We have a 100% approval policy. We want you to be happy with your poster purchase. A signed COA (Certificate of Authenticity) is included with each poster purchase. Debra has been selling original vintage antique posters on the web since 1995. We do not sell reproductions, only authentic antique posters.