---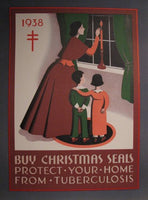 1938 TB Tuberculosis Lloyd Coe Vintage Christmas Seals Poster
This is a pre WW2 WWII era American medical or US health poster in wonderful A condition, linen mounted. It features deco art work, WPA style graphics of a young mother lighting a candle in the window, with her two children looking on. The poster is by well known Rockport, MA artist, illustrator and graphic designer Lloyd Coe.
The text reads "1938, Buy Christmas Seals, Protect your home from Tuberculosis." In small text it reads "Copyright 1938 by the National Tuberculosis Association." Original, and beautiful, A condition. A beautiful piece.
Size: 11 × 15 inches

    You'll deal directly with gallery owner Debra in your purchase: USPS Priority Shipping is FREE in US, Reduced rate for International USPS Priority shipping. We have a 100% approval policy. We want you to be happy with your poster purchase. A signed COA (Certificate of Authenticity) is included with each poster purchase. Debra has been selling original vintage antique posters on the web since 1995. We do not sell reproductions, only authentic antique posters.