---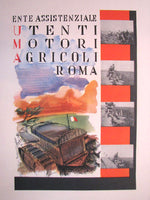 1940's Photomontage Italy Agricultural Poster UMA
This great and small 1940's post WW2, WWII poster from Italy has the text "Ente Assistenziale Utenti Motori Agricoli Roma." It features a Fiat tractor, and has photomontage images of a farmer plowing food and farmlands. The tractor clearly has the name Fiat in front, and the proud flag of Italy waving from its radiator.
The UMA is an organization concerning the allocating of diesel gas, oil, gasoline fuel for farmers. There is extensive information on this cooperative online. It's a great little farming piece in A condition. The poster is archivally linen backed and ready for framing. We only have this one.
Size: 9.5 × 13 inches

   You'll deal directly with gallery owner Debra in your purchase: USPS Priority Shipping is FREE in US, Reduced rate for International USPS Priority shipping. We have a 100% approval policy. We want you to be happy with your poster purchase. A signed COA (Certificate of Authenticity) is included with each poster purchase. Debra has been selling original vintage antique posters on the web since 1995. We do not sell reproductions, only authentic antique posters.