---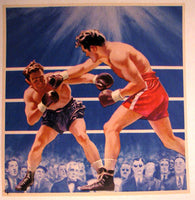 1930-40' Boxer Boxing Original Sports Vintage Poster
This is a wonderful small, square boxing poster depicting 2 boxers in the ring, with bystanders below. There is no text printed on the poster, and it was found in a printing office lot with other similar posters we also have on our site. The color is vivid, red white, blue and black.
We heard from a Boxing enthusiast who told us this American poster was designed from a boxing press photo of Gus Lesnevich (world light-heavyweight champion, on the left) and Freddie Mills (British Light-heavyweight champion, on the right). This was Gus Lesnevich's first World Championship title defense after being discharged from the U.S. Coast Guard. Gus retained his World Championship Title by knocking out Freddie Mills at the end of the 10th round. This bout took place on May 14, 1946, and was the first Professional boxing title fight to take place in London, England after WWII.
The poster is very small, would be beautiful framed for a children's room or sports room. Condition is A, linen mounted. A great piece! See other boxer poster on our site, found with this, in a larger size. The poster is archivally linen backed and ready for framing.

Would be great framed for the vintage boxing buff! We have 7 of these beautiful little pieces, and when gone, we will never have them again.
Size: 9.25 × 9.50 inches

    You'll deal directly with gallery owner Debra in your purchase: USPS Priority Shipping is FREE in US, Reduced rate for International USPS Priority shipping. We have a 100% approval policy. We want you to be happy with your poster purchase. A signed COA (Certificate of Authenticity) is included with each poster purchase. Debra has been selling original vintage antique posters on the web since 1995. We do not sell reproductions, only authentic antique posters.