---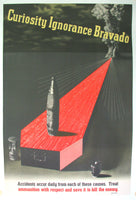 1942 WWII Antique Original Abram Games Poster
Printed by: 13,500-6-44 (4733) H.Q. 62-2157-F.D. 4 K.P.
Age: 1943
Type: Original lithograph
Artist: documented and known to be designed by Abram Games (1914-1996) famous graphic designer, poster artist, and prolific advertising illustrator, page 57, Abram Games Book
Condition: A, linen mounted.
This is a large and rare original small Abram Games war, military or propaganda poster entitled "Curiosity, Ignorance, Bravado" It features a coffin and ammunition, and is an amazing example of 1940's forties era world war two graphics and the work of Abram Games. Poster text reads: "Accidents occur daily from each of these causes. Treat ammunition with respect and save it to kill the enemy" The clear and graphic message is to work with ammunition with care and avoid accidents.
The design is indicative of Games' high modernist style, as in, sparse, direct, art deco and clean. During the war Games used photography, in photomontage to create surrealistic, modern poster design. We are very happy to offer a rare collection of his original poster work, which has been on our personal collection for years. See the entire collection here. The poster is archivally linen backed and ready for framing. We only have this one.
Size: 19.25 x 28.25 inches 

    You'll deal directly with gallery owner Debra in your purchase: USPS Priority Shipping is FREE in US, Reduced rate for International USPS Priority shipping. We have a 100% approval policy. We want you to be happy with your poster purchase. A signed COA (Certificate of Authenticity) is included with each poster purchase. Debra has been selling original vintage antique posters on the web since 1995. We do not sell reproductions, only authentic antique posters.