---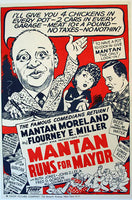 1946 African American Vintage Black Film Cartoon Poster
PRINTED BY: Ted Toddy Pictures NYC
AGE: 1946
CONDITION: B, very clean, linen mounted, machine folded for distribution, some minor creasing and small restoration, very vibrant, bright and beautiful.

Stars are: Flourney E. Miller, Flourney Miller, Ruth Jones, John D. Lee, Fred D. Gordon, poster has text "All Colored Cast."

Mantan Moreland was best known for his controversial and befuddled, scared of ghosts black chauffeur character in the Charlie Chan series. He also starred in what was then called "All-colored features". This movie poster is for a film called "Mantan Runs for Mayor".

In the early 1940's, Ted Toddy began releasing a large number of films that featured all Black casts. They were both features and shorts, and were distributed by Toddy, some were produced by him, and others were by others and either released or re-released through his Toddy organization. This poster has a cartoon theme. A wonderful and historical African American piece. The poster is archivally linen backed and ready for framing. We only have this one.
Size: 27 x 40.5 inches

    You'll deal directly with gallery owner Debra in your purchase: USPS Priority Shipping is FREE in US, Reduced rate for International USPS Priority shipping. We have a 100% approval policy. We want you to be happy with your poster purchase. A signed COA (Certificate of Authenticity) is included with each poster purchase. Debra has been selling original vintage antique posters on the web since 1995. We do not sell reproductions, only authentic antique posters.