---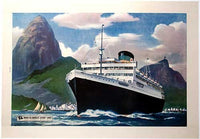 1948 Moore McCormack Ocean Liner Vintage Poster
PRINTED BY: Jaymar Specialty Co., 200 Fifth Ave, New York
CONDITION: A, Linen Mounted, An extra bottom and top clean white external border added for beautiful display, that's a real plus! Beautiful!
This horizontal poster is a lovely travel poster. Moore McCormack often known as Mooremack, ran many ships from the U.S. to South America and has origins from 1913. Their prosperity ran highest in the aftermath of WW2. In the 1920's they were known for their commercial Steamship Corporation, when they acquired US Shipping Board steamers and service. The operations to South America were run with chartered vessels. In this poster, Mooremack is advertising for cruises to Rio de Janeiro Brazil in the 1940's. 
A beautiful landscaped scene is behind the large and elegant ship. The poster is archivally linen backed and ready for framing. This came from a series of posters we acquired from a printing house in the early 1990's, hit this link to see the rest, 4 total, rare and never seen before in our poster travels.
Size: 25 × 17 inches

    You'll deal directly with gallery owner Debra in your purchase: USPS Priority Shipping is FREE in US, Reduced rate for International USPS Priority shipping. We have a 100% approval policy. We want you to be happy with your poster purchase. A signed COA (Certificate of Authenticity) is included with each poster purchase. Debra has been selling original vintage antique posters on the web since 1995. We do not sell reproductions, only authentic antique posters.