---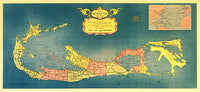 1950's Bermuda Antique Vintage Map Poster
PRINTED BY: Copyright by the Bermuda Trade Development Board under International Copyright Union prepared by Rand McNally Company, Printed in USA
AGE: 1950's, lithograph
CONDITION: A, Linen Mounted
This wonderful old horizontal map depicts the Bermuda Islands, Castle Harbor, David Island, Harrington Sound, St George`s Island. Bermuda was colonized by the Virginia Company 1612, and The Bermuda Company 1614, as stated on the poster. A vibrant and bright antique map poster, large horizontal size, and in beautiful condition, ready for framing! We only have this one.
Size: 16.5 × 36 inches

    You'll deal directly with gallery owner Debra in your purchase: USPS Priority Shipping is FREE in US, Reduced rate for International USPS Priority shipping. We have a 100% approval policy. We want you to be happy with your poster purchase. A signed COA (Certificate of Authenticity) is included with each poster purchase. Debra has been selling original vintage antique posters on the web since 1995. We do not sell reproductions, only authentic antique posters.