---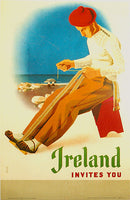 1954 Ireland Invites You Vintage Travel Poster
Printed by: Issued by Fosra Failre, The National Tourist Publicity Organization. Printed in the Republic of Ireland by Browne & Nolan ltd. Dublin F.F. 43/54-5.
Condition; A linen mounted, beautiful, lithograph.
Artist: Signed Melai, graphic designer, poster artist, illustrator
This is a beautiful original 1950's vintage Irish travel poster. It depicts a man by the seaside hand weaving a colorful belt, wearing his beautiful fishermen knit sweater. There are two people carrying a wooden boat on their backs, rocks on the shoreline. He is wearing soft slippers and a red wool hat.

A wonderful vintage clothing piece, and regional piece, in beautiful tones with the byline "Ireland Invites You." The poster is uncommon, and archivally linen backed, ready for framing. We have just one.
Size: 25 × 40 inches

   You'll deal directly with gallery owner Debra in your purchase: USPS Priority Shipping is FREE in US, Reduced rate for International USPS Priority shipping. We have a 100% approval policy. We want you to be happy with your poster purchase. A signed COA (Certificate of Authenticity) is included with each poster purchase. Debra has been selling original vintage antique posters on the web since 1995. We do not sell reproductions, only authentic antique posters.