---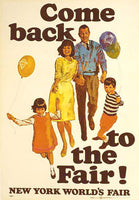 1964-65 New York Worlds Fair Poster by Bob Peak
PRINTED BY: Unisphere USS United States Steel 1961 NY World`s Fair 1964-1965 Corporation
AGE: c. 1964-5 in use
CONDITION: A, Linen Mounted
This small and uncommon 11 × 16 inch poster was one of the many posters produced by The New York World's Fair 1964-1965 Corporation Unisphere, presented by USS United States Steel. This smaller poster is a souvenir from the fair would be great for a World's Fair collector or in a child`s room.

It is not signed, but is the illustrative work of Bob Peak, poster artist, graphic designer, illustrator, and American designer for USS steel. You may see his other work on our site also. An uncommon piece. The poster is archivally linen backed and ready for framing. We have 2 two found together, and no more when gone.
Size: 11 × 16 inches

    You'll deal directly with gallery owner Debra in your purchase: USPS Priority Shipping is FREE in US, Reduced rate for International USPS Priority shipping. We have a 100% approval policy. We want you to be happy with your poster purchase. A signed COA (Certificate of Authenticity) is included with each poster purchase. Debra has been selling original vintage antique posters on the web since 1995. We do not sell reproductions, only authentic antique posters.