---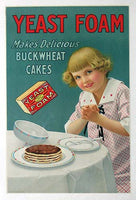 1915 Vintage Yeast Foam Breakfast Buckwheat Pancakes Poster
PRINTED BY: Ketterlinus, Philadelphia & Chicago
AGE: c. 1915, stone lithograph
CONDITION: A, Freshly Linen Mounted, absolutely beautiful.

This beautifully printed and rare original antique litho poster is printed in deeps and rich hues. Depicted is an angelic image for food advertisement of a young genderless child at a table, about to dive in to a luscious stack of American pancakes.
One one hand he appears as a boy in Little Lord Fauntleroy attire, and on the other hand, this may be a girl. beautiful either way nonetheless. The box is a great piece of circa 1915 advertising design.
Text reads: "Yeast Foam makes Delicious Buckwheat Cakes." A great smaller kitchen poster, all ready for framing!  Please note you may find other on the web without the original Ketterlinus Printer's mark in lower left. A beautiful piece. We only have this one. Rare and ready for framing. beautiful condition!
Size: 9.75 x 14.5 inches

    You'll deal directly with gallery owner Debra in your purchase: USPS Priority Shipping is FREE in US, Reduced rate for International USPS Priority shipping. We have a 100% approval policy. We want you to be happy with your poster purchase. A signed COA (Certificate of Authenticity) is included with each poster purchase. Debra has been selling original vintage antique posters on the web since 1995. We do not sell reproductions, only authentic antique posters.